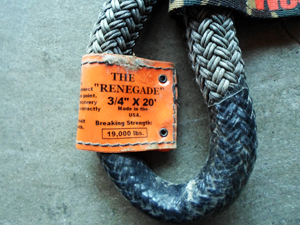 The Bubba Rope - Renegade Model Breaking Strength is 19,000. This rope has already seen hard use in my class.
(Click picture for a larger image.)

I have been experimenting with a Bubba rope now for a few months. The one I have is the recently released Renegade model. It is designed primarily for 2 door jeep size vehicles. This one is rated at 19,000 lb. breaking strength and is 20 feet long.

The Bubba rope is representative of the higher end manufactures in that they have a tag attached on one end of the rope with all the specs. This is important – don't use anything for recovery if you do not know the ratings for which it is designed. If you buy any recovery gear that does not have a tag, write, carve or engrave the information from the package onto the product.